Travel Oregon's Philanthropy Program Awards Funds to Local Communities
Travel Oregon's Philanthropy Program Awards Funds to Local Communities
Submitted by TIES News on March 6, 2013 - 5:24pm

Encouraging Sustainable Tourism Development in Oregon
Through its new Oregon Travel Philanthropy Fund (OTPF), Travel Oregon, in partnership with Sustainable Travel International, will be donating more than $14,000 to projects throughout Oregon that improve the environment, support local culture and enrich the destination for future visitors.
OTPF is the first statewide program of its kind. The goal of the program is to improve experiences for visitors and locals by connecting them to participating tourism businesses, such as hotels, restaurants, and tour operators that are working to improve and enhance Oregon communities.
"We chose to donate to projects that represent some of the best work being done to steward the environment, build community and showcase the food and culture that make Oregon a great destination," said Kristin Dahl, Senior Manager of Destination Development at Travel Oregon.
Current Projects and Participants in the Oregon Travel Philanthropy Fund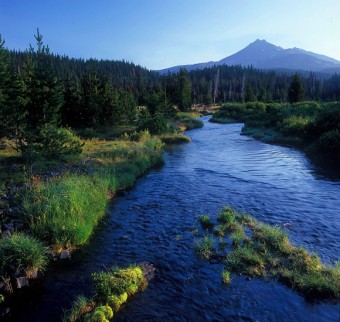 The fund supports one project from each of Oregon's seven tourism regions. Examples include: the creation of the Mosier Plateau Trail, a sustainable non-motorized trail to be built on Friends of the Columbia Gorge Land Trust land with direct access to the community of Mosier, Ore.; support of the Sustainable Seafood Initiative to encourage visitors and businesses to buy local, sustainable seafood through the expansion of Haystack Rock Awareness Program's educational outreach; and in Portland, the Living Highways Project will plant and maintain over 5,000 trees along I-205, as part of the Greenspace Initiative. Each of the seven projects will receive more than $2,000 and participation in the program is free.
Current participants in the OTPF are: The Heathman Hotel (Portland), The Jupiter Hotel (Portland), The Double Diamond Lodge B&B (Oakridge), Geiser Grand Hotel (Baker City), Old Parkdale Inn (Parkdale), WildSpring Guest Habitat (Port Orford), Cannon Beach Vacation Rentals (Cannon Beach), Black Walnut Inn (Dundee), Hotel Lucia (Portland), The Governor Hotel (Portland), Hotel deLuxe (Portland), Surfsand Resort (Cannon Beach), Stephanie Inn (Cannon Beach), Stephanie Inn Dining Room (Cannon Beach), Inn of the Four Winds (Seaside), Wayfarer Restaurant (Cannon Beach), Lumberyard Rotisserie & Grill (Cannon Beach) and Inn at Seaside (Seaside).
For more information on the fund, go to Travel Oregon Forever's website, or to participate in the OTPF, contact Harry Dalgaard at harry[at]traveloregon.com. Individuals and corporations can also donate to the fund directly.
About Travel Oregon
The Oregon Tourism Commission, dba Travel Oregon, works to enhance visitors' experience by providing information, resources and trip planning tools that inspire travel and consistently convey the exceptional quality of Oregon. The commission aims to improve Oregonians' quality of life by strengthening economic impacts of the state's $8.8 billion tourism industry that employs nearly 92,000 Oregonians.
>> See Travel Oregon's member profile
About Sustainable Travel International
Sustainable Travel International is a non-profit organization with a purpose. We've been collaborating with destinations, businesses and travelers to implement innovative sustainable tourism development and conservation solutions since 2002. We combine the mission and transparency of a non-profit NGO with the business acumen and expertise of the private sector, ensuring our partners achieve their desired results and receive a strong return on investment.